Fears have risen about the condition of infrastructure across Europe after the 
deadly collapse of a stretch of a motorway bridge in Genoa
, with experts warning that some road bridges are in a dangerous state.
In France, the transport minister warned that the country's road network was in a "critical state" after a recent studied carried out by the French government found a third of its road bridges required repairs and that 841 posed a potential risk.
In Italy, as many as 300 bridge are at risk of failure, including a bridge near Agrigento, Sicily, designed by Ricardo Morandi, the same engineer behind the Genovese bridge. The Sicilian authorities closed the structure because of structural damage in its pillars.
Genoa's chief prosecutor said on Thursday that there could be as many as 20 people missing in the rubble from the collapsed bridge, in addition to the 39 already confirmed dead.
Shares in the holding company of Autostrade per l'Italia, the operator of both the bridge and motorway that ran over it, fell dramatically in trading on the Milan stock exchange on Thursday after the Italian government said it would take steps to revoke the company's concession.
The summary of the general audit on the state of France's road network was published in July without fanfare, but does not make reassuring reading for motorists.
Its authors reported a "marked deterioration" of roads in general, and bridges and viaducts in particular.
"Of the 12,000 bridges in the network, a third need repairs … often small repairs in order to prevent the appearance of structural deterioration," it said. "In 7% of cases, the damage is more serious, leading eventually to a risk of collapse and therefore the strong probability of the preventative closure of these road bridges to heavy vehicles or all vehicles."
Elisabeth Borne, the French transport minister, said she would be present next month new legislation including a review the country's infrastructure. The government is also proposing a €1bn (£895,000) plan to "safeguard the road network" and carry out urgent repairs.
"All the bridges will be visited yearly and given more detailed inspections every three years," she said, adding: "There has been clear underinvestment in this … About 50% of road surfaces need renewing and almost one in 10 bridges is in a bad state."
The last reported bridge incident in France was on 15 May when a supporting wall of the viaduct on the A15 motorway at Gennevilliers, north-west of Paris, collapsed causing the closure of the motorway in both directions.
Christian Tridon, the president of Strres, which represents French companies that repair and reinforce structures, said he feared the problem in France was greater than the government report suggested, because it covers only "the bridges we know about, that are regularly inspected and evaluated".
He added: "There are many mayors of small communes that have one or two bridges and nobody goes to see them to talk about helping repair them."
In Italy, other bridges inspected for damage include Rome's Magliana and the Celico span in Reggio Calabria. Bridges over the Milano-Meda highway outside Milan are also under observation, both for material decay and for problems related to heavy goods vehicles in Italy's most industrialised area.
In Germany a report last year by the Federal Highway Research Institute found that while only 12.4% of the country's road bridges were in bad condition, just 12.5% were considered good. Many of the bridges were built in the 1960s and 1970s and were not designed for the heavy freight traffic of today.
The report said infrastructure in east Germany was generally in better condition because large parts were replaced in a major renovation programme in 1990s and 2000s after German reunification. Bridges in west Germany were significantly older and were subjected to heavier loads and more traffic.
Heavy goods vehicles are already barred from a number of bridges, including the Leverkusen Bridge over the Rhine north of Cologne. The span has been closed to large vehicles since 2012 after cracks were discovered. It is scheduled to be replaced by 2024. A former regional transport official has described it as a "monument to the fatal state of German infrastructure".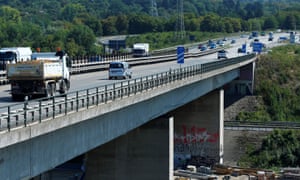 While Germany's road network is relatively well-regarded by European standards, the country is often criticised for underspending on regional infrastructure. Richard Dietrich, an architect and bridge designer, told the Hannoversche Allgemeine newspaper that Germany's bridges were "rotting dangerously. The risk of collapse can no longer be ruled out."
In the Netherlands, the Dutch transport sector lobby group TNL said it was concerned by the state of road bridges maintained by local and provincial authorities, but relatively happy with the condition of those under national government control.
"We remind those involved of the need to build up reserves for the maintenance and renovation of bridges," a spokesman told the Financieele Dagblad newspaper. This year, the newspaper said 14 Dutch bridges were considered at "unacceptable risk of collapse" in Noord-Holland province alone.
TNL said key tunnels and bridges on motorways around Europe that were built in the 1960s and 70s were reaching the end of their life.
Most of Italy's infrastructures androad network was built in the 1950s and 1960s. According to the CNR, the National Council for Research, many of those structures are at risk today because of their age.
The CNR points to the materials used, such as reinforced concrete or prestressed concrete, which according to experts lasts 50 to 60 years.
"We have used materials which are destined to deteriorate quickly, like those of the Morandi Bridge," said Antonio Brencich an engineering professor at the University of Genoa.
He warned of the risks associated with the bridge two years ago.
"Engineering experts in previous decades believed that reinforced concrete would have permitted the construction of miniature Colosseums that would have lasted forever. But that's not that way it turned out," Brencich said. "There are structures from those years that should now be demolished."
In Bulgaria, the authorities announced on Thursday plans to renovate more than 200 bridges, most of which were built between 35 and 40 years ago, and are considered to be in a bad state.
The country is the poorest member of the EU and has been receiving financial aid from Europe to modernise its infrastructure.